On the 26th of February 2019, five of our Gaveliers saw what it's like to be a school student and be enthusiastic about the art of public speaking – something we hadn't witnessed since we left our schools – by taking part in a joint meeting with the Gavel Club of S. Thomas' College, Mount Lavinia.
We were informed upon entry that there weren't many members from their club present at the meeting, and walked into a room teeming with no less than thirty members, excited and ready to speak – the turnout was impressive, to say the least.
The President of the club gave us a warm introduction, and proceeded to commence the meeting by honouring the country and their school by singing both our National Anthem and the Thomian school song. The Toastmaster for the Day welcomed the members with palpable joy and kept the meeting lively throughout.
The theme for the Round Robin session was something we found highly nostalgic and amusing – "if I had to choose a University, which one would I choose?" This theme was met with interesting and ambitious answers, with students exclaiming their carefully thought-out reasons for choosing to go abroad for higher studies, to stay in the country for their higher studies (something we took pride in) and to not pursue higher studies at all. The session was made rather interesting due to the camaraderie shared by all members, who laughed at inside jokes and revelled in shared dreams. The Round Robin Master's plea to start speeches with the last word uttered by the previous speaker was met with effort and thought, as was every student's attempt to use the word for the day ("arduous").
The subsequent Table Topics session was based on proverbs, and saw all speakers displaying their power of interpretation. The speakers were all well equipped to deal with impromptu speaking and were very impressive in their vocabulary use. The session saw six speakers with varying ideas about life and destiny, which made the session interactive on a thoughtful level and was utterly delightful. Two of our Gaveliers also gave speeches, which made the entire session a successful merger of ideas and ideals.
What followed was an increasingly hilarious, thought provoking and soulful slew of prepared speeches – a CC3 and three CC1 speeches were made and evaluated. The young hopefuls who delivered their speeches gave us confidence that STC Gavel Club's near future would produce amazing candidates for competitions. We learnt about eleven-year-olds watching Prison Break, being quippy with teachers and much more – all speakers were hilarious to the point of laughter and applause from the audience.
The General Evaluator called to stage all evaluators, who gave comprehensive analyses of speeches and sessions. Most of these were from our Gavel Club, and all of our evaluations were filled with positives and exclamations of being pleasantly surprised at the level of confidence and talent these students displayed.
This joint meeting was an amazing experience for all of us UoC Gaveliers, and we all made mental notes that we discussed later about what we can learn from the talented bunch of young boys we just witnessed conducting their Gavel meeting. We left the school with a fresh experience, a stunning visual treat of a setting sun behind a beautiful building and with renewed hope in the future of Gavel Clubs in schools.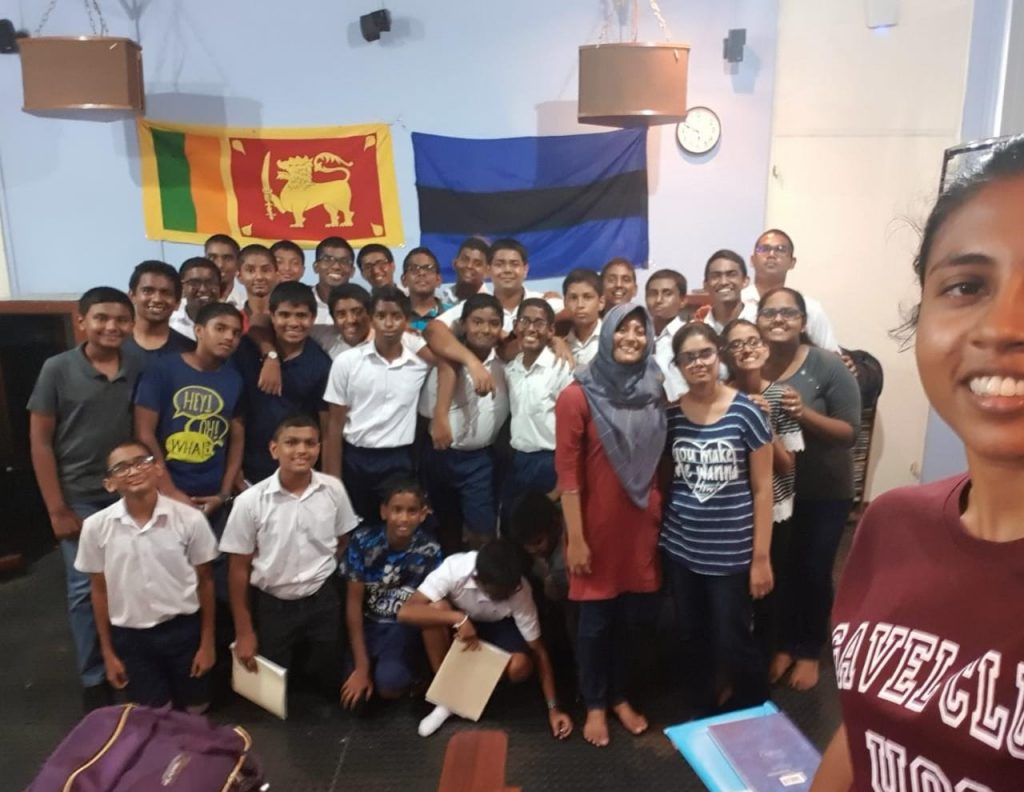 By Gavelier Nishedha Indraratne