How Mr. Pradeep Kumar gave us new perspectives on life after just two hours of talking.
I hadn't really heard that much about Mr. Kumar, except that he was the current Senior Vice President and General Manager of Hewlett Packard Enterprises, and the leader of HPE's PointNext Technology Services business group. I was also told that he lives in Houston, Texas. My interest was piqued – this man has achieved so much and is literally living the dream; he surely has some pointers on how to get to his level.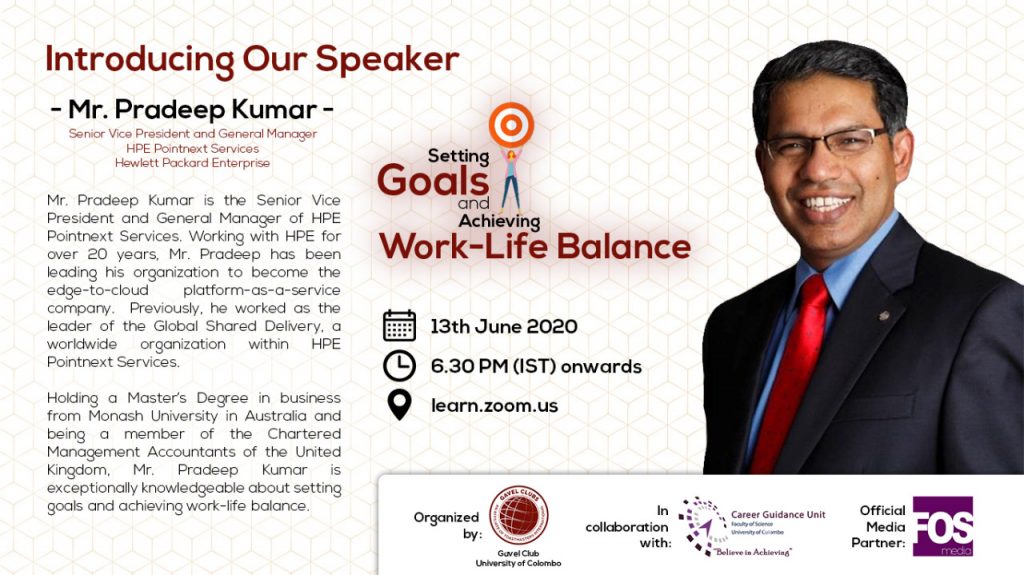 The 13th of June, at 6 pm: that was when the workshop took place. I had signed into Zoom earlier, and Mr. Kumar had also signed on a bit early, and I ended up having a pleasant conversation with him until the technical aspects of the workshop were sorted out. There was an immediate sense of friendliness and respectability in the way he spoke to us and addressed us, that grabbed our attention. I found myself waiting impatiently for the workshop to kickstart.
Mr. Kumar spoke to us about goals. Setting life's goals, short term, and long term. As young go-getters, we are always told to set our goals, but what I realized when the workshop carried on, was that we had never really been told specifically, how to set our goals. Thank heavens for Mr. Kumar, who told us about his life – how he had moved to Australia after completing his education, the decisions that he made that affected his life, and how he ended up living in America. He spoke about his car – his dream car, how he wanted to get his dream car, and how he worked hard to get it. The whole time, he related a point to his personal experience, and that is what made his workshop so great to listen to. We could all relate to his stories about how he had to negotiate certain things with the adults in his life, and how he felt his life goals shifting after a while. He told us about how he dealt with that change – something I personally needed to hear, because if anything, my goals shift themselves every 20 minutes or so, depending on my mood.
He told us something that I had never, up to that point, heard an adult tell me: to reflect on life and what we want. Mr. Kumar asked us to reflect on our lives. What I used to hear was that I had my whole life ahead of me and that I needed to look ahead. What Mr. Kumar asked us to do was totally out of the blue, but it made so much sense. He said, "reflect on life and what you want, and set your goals", and it was as simple as that.
Mr. Kumar dropped infinite nuggets of wisdom throughout the workshop, and there's no other way to capture what he said than to rattle off his points in random order because his ideas were meticulous and each point was backed up with a life story that served the purpose of proving the point. The way he told stories was simple and yet, completely awe-inspiring. So much so, that it left me, the girl who always has something to say, dumbfounded for once. So here we go:
It is more important to have little goals in life and to achieve those goals – this is what helps you get to achieving the main, big goal that you have set for yourself.
Things can go out of order all the time – you have to face setbacks all the time, but that just means that your goals will have to change, be modified to better suit your newfound purpose. Goals change over time, and that is natural. Embrace the change.
When a particular goal becomes irrelevant, set a new one in its place.
Listen to your parents – they have much more life experience and wisdom than you do, but also, think for yourself and make your own path. We live in a country where our parents hold a bigger stake in our lives, and it's better to include them in our decision making than to totally exclude them. You have an obligation to let your parents know about your goals for the future so that it is easier for them to get on board.
It is easy to set a goal, but it is tricky to pick a time of execution. Talk to many people and get their informed opinions about your plans. Examine and re-examine your goals. Pick the right time to execute it and talk about it with the powers that be. It doesn't matter how great your plans are, if you do it at the wrong time it could turn out bad for you.
Your work is important in getting ahead and making your career, but never let your family suffer because of it.
Sometimes you have to compromise between having a good job and working hard. The difference makes itself apparent when you start working somewhere that you may have always wanted to but find yourself not improvin犀利士 犀利士 >g yourself.
The work-life balance is super important to maintain. Mr. Kumar stressed on prioritizing things as well. Depending on the time, the station of life, etc. that you are in, it is important to get your priorities straight.
Pick your passions. There may be too many at a time, so it is important to direct your focus on something you have chosen to do, otherwise, you'll spread yourself too thin. These difficult decisions need to be made.
Your life should be about more than just your work – you have to put your family, your interests, your hobbies, etc. – the things that make life worth living – in the mix of priorities as well. You need to pick what's important to you.
You may be lost, but you won't be lost forever. There is so much that you can gain by taking some time out of the day to plan your life. As Mr. Kumar said at the start, he hoped that after this workshop, people would think to themselves "I need to set some goals", and that is precisely what I did, folks.
Mr. Kumar also said something that struck me: "I don't want you to make the same mistakes I made and put everything into your work. Success is not about career, goals, and making money. Success is about what matters to you". As someone who prioritize犀利士 s work above all else, this statement forced me to take a step back and think about what I was doing with my life, and if you're reading this, I highly recommend this thing called "thinking but not overthinking too much" that I had not tried doing before this. It is a wonderful exercise.
Mr. Kumar, in two hours, dispensed so much life wisdom on us. This is the stuff we needed to hear a few years ago, but the idea of setting your goals and re-evaluating your goals is one that is especially important, I think, with the lockdown really interfering with our life plans this year. Mr. Kumar's outlook on life was a breath of fresh air. He did tell us to set our goals, but he also reminded us not to take ourselves too seriously. He spoke about the idea of marriage and having life partners and how all of the related decisions also have to be made carefully. Based on what he told us, his life is a perfect blend of spontaneity and premeditated action, and at the end of his workshop, he had given me new incentive to really get my life on track.
Mr. Kumar was generous enough to answer many of our questions. Our students quizzed him to no end, and he answered each question with grace and after each question, he left us all with new information and insights. This workshop was a much-needed life reset for me, and I'm sure, for many others out of the hundreds of participants we had. Mr. Kumar told us all that we needed to hear, and he told us everything with a relatable story to accompany each point. We truly had a great time.
Our immense gratitude goes out to Mr. Pradeep Kumar, who was up at 8 a.m. Houston time to meet us and talk to us about life. His words, his ideas, and his presentation were all relatable, and wise. His stories were funny, and the vibe was "chill", as the kids say. He calmed us down immediately, and this was easily one of the more relaxing workshops that I have ever been to. A huge thank you, therefore, is in order, to Mr. Kumar.
P.S.: He also said that if any of us have any questions, we could drop him a message on LinkedIn.
I would like to thank Vimukthini akki, one of our former Gavel Club presidents, for arranging this entire workshop (we were even treated to a fun interaction between Vimu's family and Mr. Kumar at the start of the session) and for giving us the contact. Our current president, Uditha, also deserves our gratitude for running this entire operation from start to finish. I know the kind of stress he was under, and thankfully, the workshop was a resounding success, thanks to him and also thanks to our friends over at FOS media, who were brilliant as always. A special shoutout to the Career Guidance Unit of the Faculty of Science, University of Colombo, who collaborated with Gavel UoC to bring this workshop to life – Prof. Chamari Hettiarachchi, for hosting us on Zoom, Ms. Kalpani Anuradha, the course coordinator, and Prof. Deepthi Wickramanayake. Our wonderful compere, GV Malmi, did a wonderful job and so did our Zoom Master, GV Minura. All of these people were instrumental in getting this workshop to us, so let's all say thank you to them (silently; please don't randomly yell out "thank you" while reading this).
A great workshop, a great message, and a mediocre write-up to sum up the proceedings. This sounds about as right as it could get. If you couldn't catch this workshop, do not despair I'm pretty sure there will be some video version of it up on the internet at some point. Just keep an eye out.
That being said, set some goals for yourself, kids.
Much love,
Your annoying VPE, Nishedha.