On the 23rd of December, Gavel UOC was buzzing with Christmas spirit as the 279th Educational meeting took place under the theme "Off to the North Pole". The Christmas spirit was alight even before the commencement of the meeting as the meeting premises were decorated with beautiful Christmas decorations and a sparkly Christmas tree.
Our president GV Naethree dressed up as Santa and commenced the meeting by bringing the magic of Christmas to life with her words. The controls were then handed over to our TMOD GV Sankaja (aka. Rudolph) who explained to us the very creative theme for the meeting: "Off to the North Pole". The meeting was to take place under the theme of Santa's workshop where the role players were reindeers while the rest of the gaveliers were elves. He then introduced the General Evaluator for the day, GV Theshani who then introduced the rest of her TAG team comprising of GV Sashmitha, GV Nitharshanan and GV Nethma.
Next, the Round Robin session was conducted by our RRM for the day, GV Vinupa, who asked us to explain our wishes for this Christmas as the round-robin topic. Wishes of our gaveliers ranged from altruistic ones such as world peace to relatable ones such as the cancellation of exams and extra holidays. Overall, the round-robin session was a success and every one of us got to reflect on our wishes and expectation for this Christmas.
Then we were divided into two teams and a very exciting game was carried out by our Game Masters for the day, GV Nitharshanan and GV Vinupa, who introduced the first game of the meeting. The game named "Holiday A-Z" required us to pen down all words from A-Z relating to Christmas and the team who managed to name the most words was declared the winner. A very competitive game took place among the two teams and ended with intense debate as to whether certain words such as OGF were Christmas-related.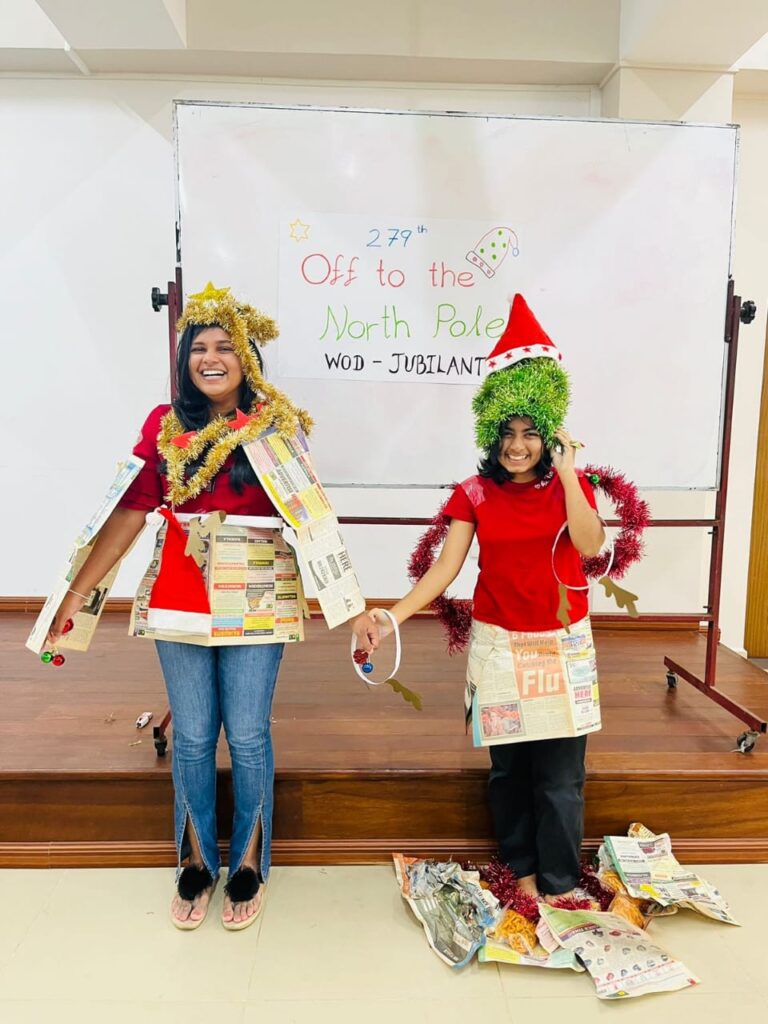 Following the game session, our table topic master GV Pamudi conducted a table topic session consisting of many interesting Christmas-related topics. Both new and experienced gaveliers alike took up these topics and we were able to witness many amazing speeches. It was a session where we all got to reflect on many Christmas-related memories and what Christmas meant to each of us.
Next another very game "Deco Your Tree" organized by our game masters took place where the two teams were asked to decorate their own human Christmas trees. Our gaveliers were able to unleash their hidden creativity and GV Paboda and GV Theshani were transformed into two beautifully decorated Christmas trees.
Time flew and the meeting came to an end without us even realizing it. After the official conclusion of the meeting by GV Naethree, we all had some delicious cake, exchanged Christmas wishes and carried on to the usual plain tea session.