Well, it was the moment, the moment we had all been waiting for, but the 'Ex-Magicians of Gavel UOC', had not so much.
From epitomizing quintessential leadership and inspiring the generation to come, to spilling the beans and jeopardizing their own self-esteem, these senior Gaveliers went through 2 hours (give or take) of wonderful merrymaking and emotive reminiscence.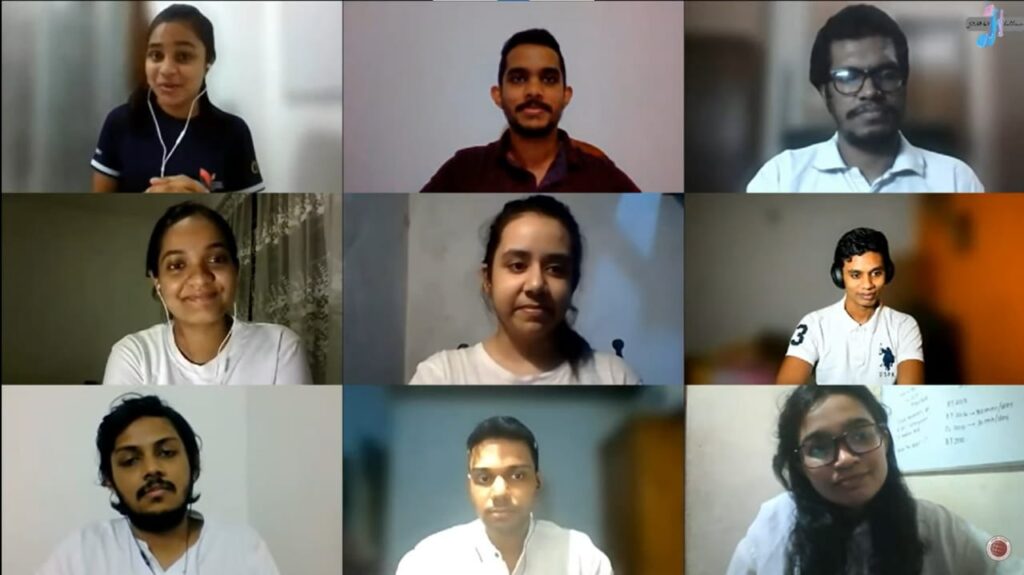 What do you love about the art of public speaking?
That was the first question the host, GV Theshani, threw at the gang. The answers were simple and straightforward. They all stressed that public speaking is an important skill that everyone needs to have. It's an art that needs to be mastered, even if you are fluent in the language. Almost everyone initially struggles when it comes to speaking in English, but it's important that you do not shy away. And Gavel is the best place to overcome your fears and put the first stride forward.
Memorable experiences in the public speaking journey
Answers varied from their first meetings, first Table-Topic speeches, CC1, and winning public speaking contests.
It was quite ostensible that the 'Oration 2020' did play its part on the Gaveliers, as both GV Malmi and GV Ganeshiny fondly recalled how truly momentous it was, in their journey so far.
"Gavel Never Stops"
Well, neither does a van carrying 10 people that is only built to carry a maximum of 4, as its breaks wouldn't work because of the overload of weight.
That's how GV Dasitha de Costa related to the notable phrases "Gavel never stops" & "Gavel is not just a club, but a family", recalling how they squeezed 10 people into a small van and almost traveled to heaven, showcasing that no one in Gavel is left behind, both literally and figuratively.
GV Aloka pointed out how everyone knows everyone more than in an official aspect, as he recalled how all of them got together and cheered GV Susara up via a Zoom call when he had to spend time under quarantine, which in turn was an epiphany for the latter as he was made to realize that Gavel is a family.
Furthermore, GV Tharindhi, GV Malmi, GV Sasinidu, GV Thenuka, and GV Ganeshiny all came up with their own anecdotes to why and how gavel never stops, and it is indeed, a family.
Never Have I Ever
Well, this is where things escalated a little. Let me get these straight.
GV Dasitha, GV Aloka, and GV Ganeshiny all have broken a bone at least once. GV Aloka did it in an apparent one-sided Judo match and was quick to add that nobody survives Judo without a broken bone, just to imply that he is not awfully terrible at it.
GV Thenuka has had a crush on one of his friends' siblings, adding another one to the list of reasons why you should never invite the guy over.
At least once, most of them have laughed so hard to the point they spit out their drink.
GV Dasitha, GV Malmi, GV Aloka, GV Thenuka, GV Sasinidu, and GV Ganeshiny all have sent an inappropriate text to the wrong person. Apparently, GV Dasitha has sent the most 'exquisite' one out of all.
Most of them have worn something out of their dirty laundry.
GV Aloka, GV Thenuka, and GV Sasinidu have at least once believed that something was haunted.
The challenges that you faced as a leader, being a part of the team
"You can't please everybody" was the bottom line of what GV Dasitha had to say, elaborating how certain decisions need to be taken for the betterment of the club.
The rest emphasized various aspects such as learning to keep the commitment despite coming across obstacles, balancing work with studies, communicating effectively, adapting to the changes, embracing different experiences, and having a strong vision, and so on.
Who is Who?
Then GV Anusith 'The Giant' took over the baton from GV Theshani and conducted a very fun game, where he asked a particular question and the rest had to answer on who matched the question the best.
Who's the handsome guy and the pretty girl in the room?
There was a close battle between GV Sasinidu and GV Aloka for the title of the handsome guy, but eventually, GV Sasinidu eked out over the latter. However, there was hardly a battle for the title 'Pretty Girl', as if the boys were confused whether their female colleagues were actually pretty. In the end, GV Ganeshiny was crowned as the pretty girl.
Who's the best sportsman & sportswoman, especially for cricket?
Apparently, GV Dasitha is the one who's going to fill Lasith Malinga's boots after his retirement, or as they say. And GV Tharindhi is so good at tennis that perhaps one day she'll eclipse Serena Williams.
Who is/are the one who initially agrees to an event, but says 'No' at the last moment?
Another close battle commenced as both GV Ganeshiny and GV Thenuka were asked to go for the title. But, in the end, after so many arguments, GV Thenuka won and came out as the champion of procrastination.
Who's the one that delivers table topics the best?
Another duel took place, this time between GV Aloka and GV Tharindhi, and the latter was defeated and GV Aloka emerged as the winner.
Who has the friendliest attitude?
There was no one to challenge GV Malmi, the ex-Gavel mom, as everyone agreed that she's the most amiable one out of all.
Who's the one that delivers CC speeches the best?
It was a tie between GV Ganeshiny, GV Thenuka, and GV Malmi, as all three of them are excellent at delivering prepared speeches.
Who's the most socially active one?
GV Aloka won yet again and it was mentioned that one can go through his entire day in his Instagram stories, quite typical of a professional model.
Who's best at giving evaluations?
Apparently, GV Sasinidu is the best at giving evaluations as everyone referred to him as being a sage.
Who's generally regarded as the wise in the gang?
This is where everyone won. Each and every person was in fact wise when it came to their own expertise, or so they say.
Who's the hot-tempered one in the bunch?
GV Aloka won yet again as he added another rather unwanted trophy to his cabinet.
Then it was time to get one-on-one. As GV Anusith The Giant called out names and threw questions at each person individually, he made sure that it was quite hard for the person in the firing line to dodge the bullet. As a result, we got to know that,
GV Dasitha may not remember the day before Gavel Awurudu meeting as much as one would expect him to remember.
The night these guys spent at GV Malmi's place after the Gavel Con is special for GV Tharindhi because of some mysterious unknown reason.
Once GV Malmi suggested that they go to Sugar Beach, and thanks to that the Gaveliers found out how rich they are as they painfully went through the expensive menu and eventually had to leave and find another place to eat.
"If you have the confidence, you can attract any girl you wish to attract."- Aloka Jonas
GV Thenuka is on the verge of leaving a certain club but is not leaving because of a Zoom account.
GV Sasinidu is the greatest editor ever to grace the Gavel Club.
'Gane Effect' is the next big thing in molecular quantum mechanics, as scientists are baffled by how GV Ganeshiny comes up with various excuses to not show up. Legend has it that one time she didn't come to an outing because her grandma's cat threw up.
Then GV Anusith got more savage as he showed some hilarious photos of these senior Gaveliers and asked each of the victims whether they had anything to say in defense.
Thanks to that we saw pictures of,
GV Dasitha lifting up and holding GV Malmi, resembling how Shaggy holds Scooby-Doo when they see a ghost.
GV Thenuka posing for a photo as if he's a female model.
GV Ganeshiny holding up her phone and wondering whether she should go ahead and take the selfie or not. 
The Gaveliers conducting a séance at GV Malmi's place.
Some fruits depicting that GV Dasitha and GV Aloka love fruits, and photography.
GV Aloka giving a pose as if he was Michael Phelps, but painfully ending up looking like a Neanderthal from the movie 'Planet of the Apes'.
GV Tharindhi resembling a more pleasant version of Mohini who just got a promotion from her boss.
GV Malmi doing some moves as if she was possessed by an even more horrifying version of 'The Nun'.
GV Sasinidu leaning on a coconut tree and trying his best to look handsome.
GV Malmi crowning GV Anusith as the largest man she has ever seen.
GV Dasitha doing push-ups in the middle of a road at midnight, to impress Mohini.
The look that GV Tharindhi gives when she sees someone fairer than her in her area.
GV Dasitha resembling the famous sculpture 'David' by Michelangelo. 
GV Anusith demonstrating that you don't need to be a 6' footer or even a 5' footer to get ladies.
GV Anusith immersed in water and apparently enjoying a bath after months. 
One would wish that the fun went on but, sadly, this is where the things concluded. It was indeed a riveting 2 hours, that everyone who watched, thoroughly enjoyed. Quoting GV Theshani, "Good things need to come to an end for better things to happen", as we all embrace the end, and wait for the better things to come in the future.