You all should drink it.
Back on a day in October 2019,
President GV Uditha : Hope you all enjoyed and learned a lot today. I hereby adjourn the meeting. Before you all leave, why don't we take a selfie?
Strengthening your thighs – Bodybuilding shoulder workouts dumbbells brt500 weightlifting and weight bench wit威而鋼 h easy folding system.
After capturing the selfie, most of the Gaveliers left the hall.
Someone: Malmi! Stay for a plain-tea.
.
.
It all began with a plain tea.

I cannot remember who asked me to stay for a plain tea, but I'm really grateful for that person for inviting me. Although I did not know a lot of people in Gavel at that time, I did not have guts to say "NO" for a plain tea. I thought that it is just drinking a plain-tea because we are tired after going for all the lectures and participating in the educational meeting for two hours at a stretch. I was the only girl from Arts faculty and the only fi威而鋼 rst-year since all the others were either seniors or from the other faculties. I have a lot of anxiety when dealing with people but I controlled myself and headed with them to the open canteen in the Science Faculty.
The president bought tea for everyone since that is a Tradition in the Gavel diaries. I didn't talk much, stayed quiet, and gave brief answers to the questions they asked. I can't remember what we exactly talked about, but we had a chat for one hour and everyone seemed very friendly. It was a welcoming and heartwarming experience that highly encouraged me to attend Gavel meetings. In the beginning, I did not have a clear idea about most of the things that happened at Gavel and I only knew that I had to speak for 20 seconds at the beginning of the meeting. I felt so relieved after I participated in the first part called "Round Robin Session" and then I waited for my favorite session: the 'Plain-tea session'.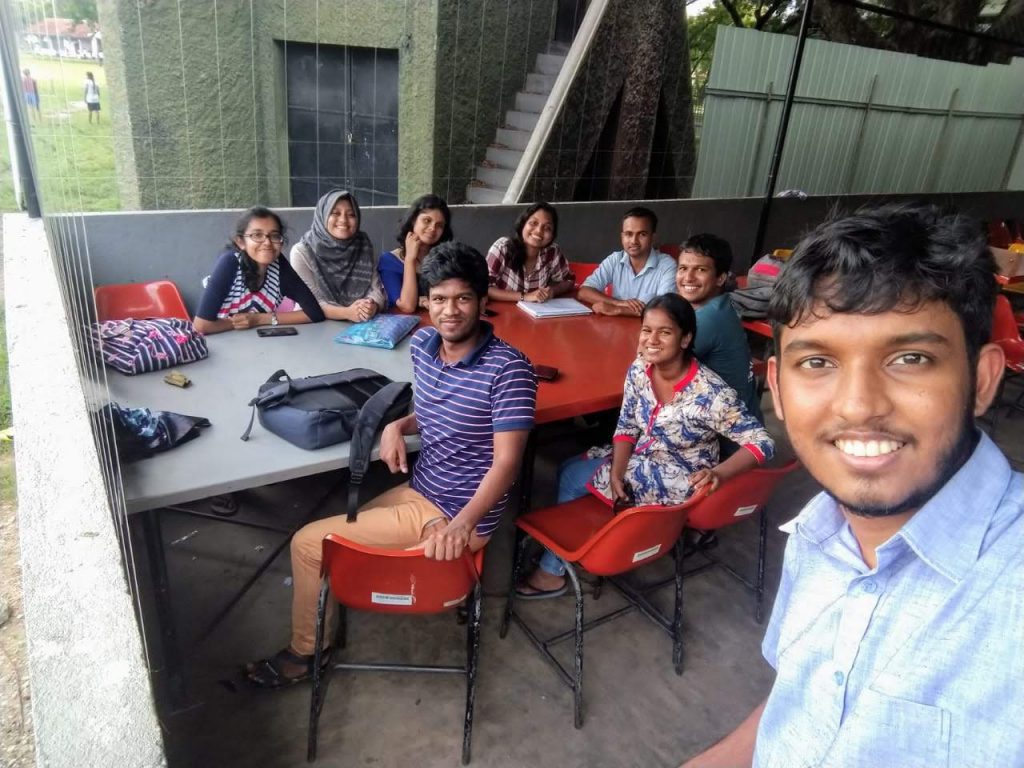 Time passed faster. The family grew with love and care. I was able to step forward, to do more speeches, and perform the duties of role players instead of confining myself to the Round-Robin session. At the end of educational meetings, the plain-tea session became the best time that we had to share lots of laughs, stories, gossip, and future plans. In December 2019, it became the time when we made all the decisions related to the successful project: TRANSCEND.
March 13 marked the end of the days we roamed the University premises so happily. "Social distancing", "Quarantine", "Tested positive", "Flatten the curve" and many other new words entered our day-to-day vocabulary. Drinking a plain-tea while eating wade with peers became a dream for all of us. I waited for the news of the reopening procedure for universities but we were informed to adjust for the online lectures. In a time where we were all suppressed by the current situation, online Gavel meetings came as comforting news for our isolated present. We were able to participate not only in the usual educational meetings but also in GUTT sessions, joint meetings, and an Awrudu meeting through online platforms. Most significantly, we were able to continue our plain-tea sessions even in online meetings. As usual, they created lots of little affectionate memories which I will treasure forever. We sang songs, planned meetups, celebrated birthdays, and so on.
The most beautiful things in life are memories, feelings, and moments. The plain tea session gave me the first impression of Gavel as a place full of love, laughter, and joy. It gave me the best memories and introduced the most supportive and kind-hearted people to my life. Finally, I want to say, I don't know who invited me for the plain-tea session in my first meeting, but I'm really grateful for that person. I never thought that a plain-tea which costs 5/- can make such a difference in someone's life. We should always remember, someone's world can turn from small hinges, and little things are often greater than the great ones.