Oration 2020 was awesome! and I do not mean this in a casual awesome ish way but seriously, it was 'lit' kinda awesome! Want to know why I'm saying that? Then keep reading guys! Okay first, If you have seen our WhatsApp, Instagram, and Facebook pages you might have come across the hashtag #gavelneverstops. Which we use all the time! And it is true, Gavel never stops! even if we are having a global pandemic outside our houses. We seriously never stop. And the best example is Oration 2020. A speech competition, for all the young and talented undergradu犀利士5mg ates of the University of Colombo, who are out there looking for chances to improve and enhance their speaking abilities. I was privileged and honored to be a Finalist in this competition. So let me take you through the Oration 2020 journey and tell you about how it shaped the life of not only myself but every contestant who participated in this competition. So you won't miss out on the next Oration to seize your moment.
Okay, the first thing that I noticed right away as a contestant was the dedication of the organizing committee, and how well everything was planned even if this is the first-ever online competition our Gaveliers had organized. Kudos to GV Kaumadi and GV Dilshan and their team for the effort they had put to make this event a huge success. I personally know that it is not an easy task to tackle competitions and on top of that a virtual competition! Seriously, guys, you have done a fabulous job!
As a contestant throughout this completion, I saw something that was very unique and special, which I have never seen in a speech competition before, which is the immense help and guidance that was given to each and every contestant. They not only gave us the platform to speak but they made sure all the contestants grew and improved their speech crafting and public speaking skills to become better speakers in the future. How you ask? They had assigned us, mentors, right from the very beginning even before the Preliminary Rounds. I mean who does that! Assigning mentors to 100 plus contestants and keeping up with them, giving continuous support and guidance to the contestants! On top of that, we had an amazing workshop done by none other than Toastmaster Sandun Fernando. He went through all the key points we should be focusing on when writing and delivering our speeches. Since it was a virtual platform each contestant received practice sessions with Senior Gaveliers of our club, to improve our delivery. Guys all of these things happened before the Preliminary Rounds.
The Preliminary Round was on July 11, and the judges chose the best 20 speakers for the Semi-Final Round which was on July 18. We were again assigned more mentors to make our speech and delivery even better. Every mentor was dedicated to making their mentee the best. At this point, all the speakers were prepared to give their best of the best, and everyone was outstanding. After a tough decision, the judges announced their 6 Finalists to the audience.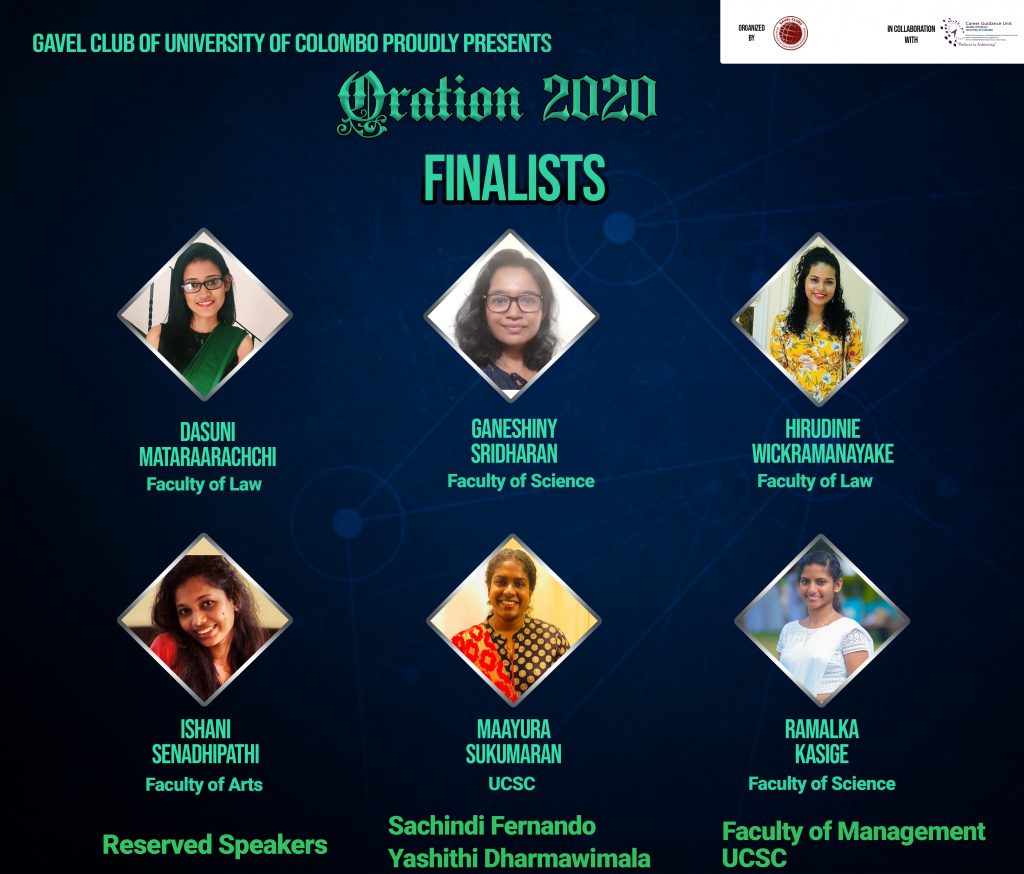 The 6 Finalists were given the privileged to get mentored by our Club Mentor TM Arshad Nizam. The organizing committee didn't stop with that and gave all the Finalists another 'one on one' session with TM Arshad. Each contestant got more than an hour to discuss every single point in their speeches. He gave each and every one of us a very comprehensive evaluation and creative ideas to take our speeches to the next level. I'm truly honored to have been mentored by all those mentors we had throughout the competition. I'm sure all the contestants will second this when I say that, the knowledge we gained from each and every mentor was immense. I have no words to describe how grateful I am for the dedication and support you gave us to improve ourselves.
And yes, I do really want to mention all the superb judges we had. It's not an easy task to sit for hours and listen to each and every contestant and figure out who's the best. so I like to thank our Chief Judge for the Competition- DTM Punsirimewan Kamburawala, CJ for Preliminary Round- DTM Chandrasiri Wanasinghe, CJ for Semi-Final Round- TM Zafraz Lameer, CJ for Final Round- TM Rauf Hakeem and all the 53 judges for their efforts.
Special Thanks to our Club President Club Uditha Weerasinghe and our VP Education Nishedha Indraratne for basically everything. You guys were always there with the organizing committee to make this event a grand success.
The Grand finale was on July 25, and everything was ready to go! As at every Round, our Zoom Master checked our audibility and setting about an hour before the competition. All the Role Players were on stand by and ready to jump into action. Finally, at 2.00 pm the Grand Finale of Oration 2020 started, along with the Live Stream on FOS Media. After 6 splendid speeches by the contestants, the Keynote Speaker Ms. Kasturi Chellaraja Wilson inspired us with the story of her journey. She reminded us that success cannot be archived only by walking through a path of rose petals. You have to work harder and harder and most importantly, learn through every mistake you face in life to become successful. Next, our Chief Guest, the Vice-Chancellor of the University of Colombo addresses the gathering. She encouraged all the contestants to go higher up in the ladder to archive goals in life. The Guest of Honor TM Sarmaa Mahalingam reminded us of the importance of having these competitions in the University, and how Gavel and Toastmasters clubs can help each individual to enhance their speaking abilities.
Finally, the moment we all had been waiting for arrived- the results of Oration 2020! The title of the Most Popular Speaker went to Ganeshiny Sridharan, while Mayuura Sukumaran became the 2nd Runner- Up and Hirudinie Wickramanayake became the 1s日本藤素 t runner-up. Finally, the Winner of Oration 2020 was announced to be Ramalka Kasige from the Faculty of Science!
Missed the Grand finale? Don't worry Editor got you covered! Click here to see the Grand finale of Oration 2020.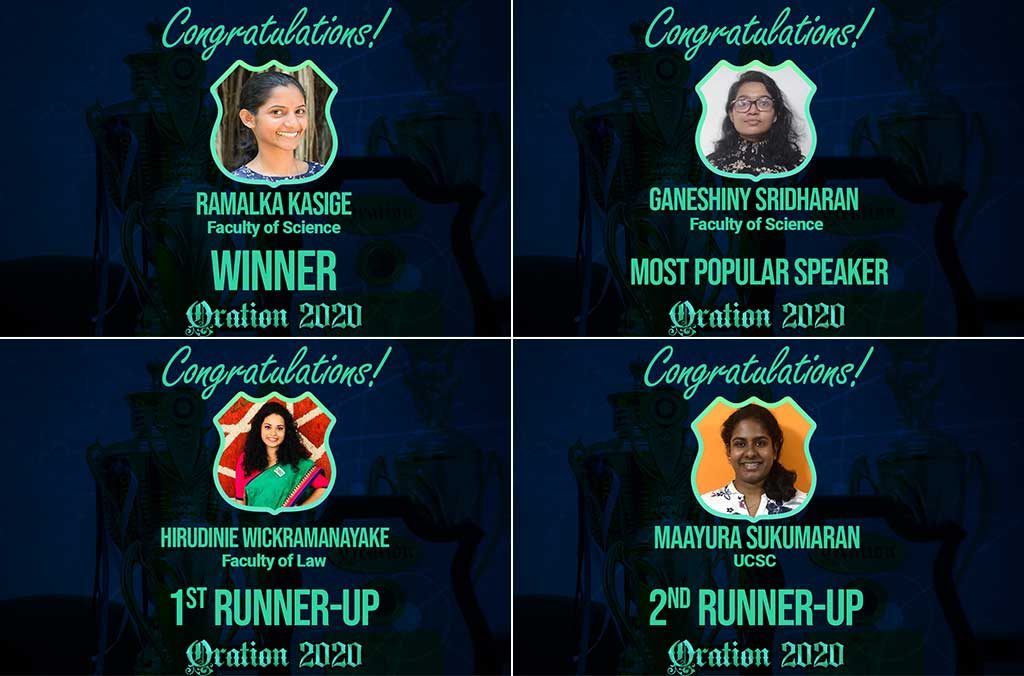 And if all this does not encourage you to participate at the next Oration, then here this out. All the Semi-Finalists received gift packs and gift vouchers, the Finalists who placed 4th, 5th and 6th places received cash prizes worth 2000 rupees, the Most Popular Speaker and the 2nd Runner- Up received cash prizes of Rs. 10,000 and the 1st Runner up received a 15,000 rupee cash prize! The Winner of Oration 2020 received 20,000 rupees as a cash prize! And not to mention all the big shiny trophies and the certificates! They literally gave us all of this and helped us immensely to improve ourselves without asking anything in return. (okay if you are a Gavelier then you might have to give treats). But have you ever seen any club giving this kind of dedication to improving your public speaking skills? So make sure to participate in the next installation of Oration organized by the Gavel Club of the University of Colombo. Because one thing is for sure #GavelNeverStops
Until next time,
Your ever-loving Editor,
Ishani Senadhipathi.