(Introducing PARTY HOUSE HOME to Gavel)
When a bunch of people do get a chance to hang around at a home, the first problem they have is, they do not have a common place to go; but when they fix this problem, it becomes the greatest comfort to the spectrum of their relationship. Nishedha Indraratne, simply Nish, who is the motivator behind the Gavel Executive Committee 2020/2021, broke the barrier and invited them to her place. Kilometers did not matter to anyone, due to the power of love among the bunch. We were all excited about the positive impac犀利士 t that together, we would have on each other.

Want to know about what happened at the PARTY HOUSE HOME?
Curious, Aren't You?
I'm excited for you, reader. You are about to meet the parents of the PARTY HOUSE HOME and get to know their overview of what happened that day.
Q: Hello Aunty, can you briefly describe Nishedha?
Nish's mom: Nish is a straight forward and talented girl since her childhood. She is personally committed to whatever she does. She has a lot of friends in school, university, and in her workplace and most of them come to our place to spend their day.
Q: Isn't it a disturbance to you, aunty?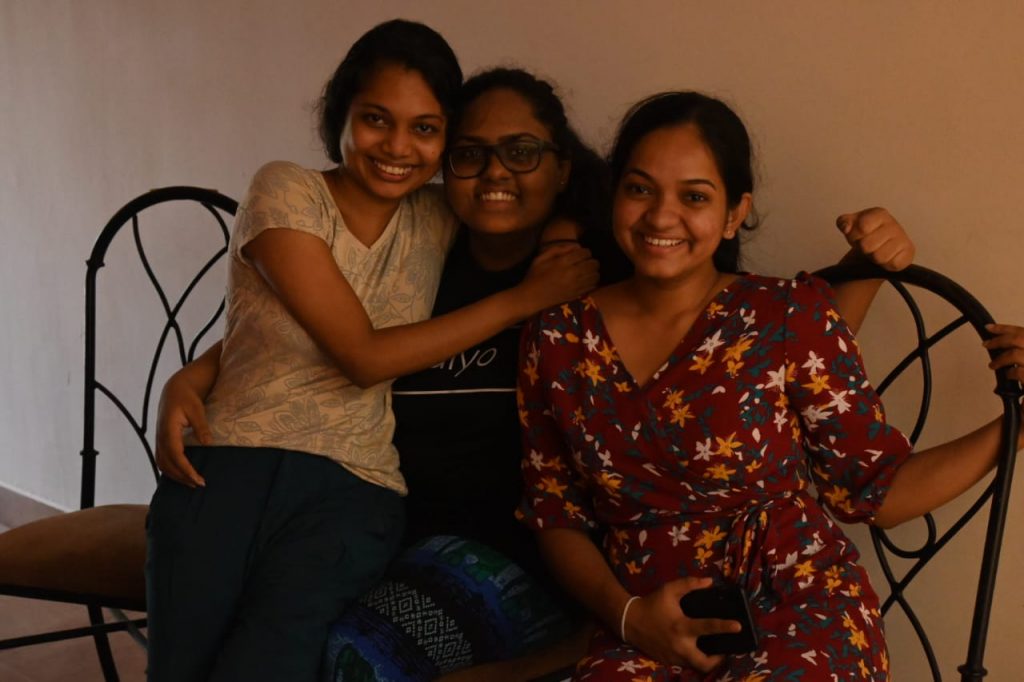 Nish's mom: No, it's not. We love to have her friends at our home. Even when I was Nish's age, all my friends came to my home to chill and today it's the same for Nishedha as well. We like to get to know about her friends and we really love to see the way they enjoy their lives.
Q: Are there any changes you saw in Nish's life, before and after she joined Gavel?
Nish's mom: I remember back in 2018, she told me that she joined Gavel Club and explained to me saying it is the university version of a Toastmasters Club. First, I saw the way she practiced 'prepared speeches' and then I saw her contagious enthusiasm in empowering other members in the club. As a result of her continuous dedication, she was appointed as Vice President of Education in the club. She was so friendly with everyone and I think her unrelenting passion could have convinced these individuals to find their way in the field of public speaking.
Q: Why does everyone choose your home to hang around?
Nish's father: I think the main reason is the location because anyone can easily find our home. And also we don't interfere with their business. They freely come to our place, enjoy themselves and go…there were times I had to give all my t-shirts and shorts to them to wear…. (he laughs) I'll tell you that story later…
Q: So what happened in the last time when her friends in the Gavel club came to your place?
Nish's father: We'll never forget that day in our lives… Even my neighbors remind me about it when we meet (he laughs).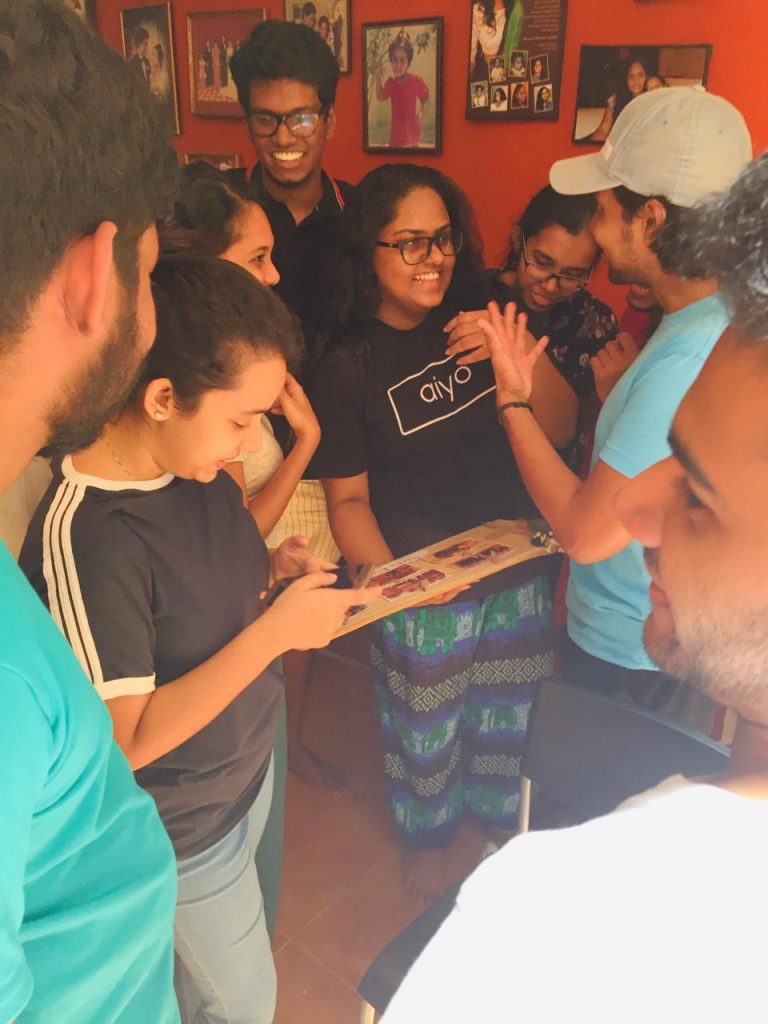 Nish's mom: Everything went smoothly in the beginning. All came to our place around 10.30 a.m. Even Shamla, who lives in Matale, and Minura who lives in Matara joined the meetup. They all were sitting in the living room, talking about the usual stuff, and then they started to sing. We didn't have to worry about the lunch because Nish informed me that Dasitha the new president, Tharindi, the champion of ILLUMINATE, Ganeshiny, the winner of Most Popular Speaker at Oration 2020, and Sasinidu, a co-chair of the project TRANSCEND were going to give their treat. The house was crowded but bright and cheerful and it smelled of pizza. When all were ready to have pizza for their lunch, a sudden birthday surprise came out for Nish. I knew very well that威而鋼 this was one of the few times in Nish's life that she has been genuinely surprised.
Nish's father: when I came downstairs, I saw the preparations for the birthday celebration. A box of cupcakes, candles, spray bottles, and birthday gifts were there in the table. Everything was normal until she blew the candles and then the mess started. Nish started to serve the cake but finally, her face was smeared with icing of the cupcakes. I'm sure this 23rd birthday surprise is an unforgettable memory in her life and the surprise party gave this celebration, the extra attention it deserves.
Q: Aunty, what happened to the chili powder bottle in the kitchen?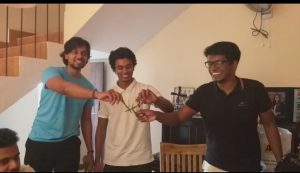 Nish's mom : (she laughs) When I came to the kitchen actually I was surprised to see the empty chili powder bottle. Then I was told about the chili pizza challenge of the trio, Dasitha, Aloka, and Sasinidu. When the Nai Miris pizzas were not spicy enough, they had put all the chilies and chili powder to the pizzas. Nish showed me the video of the way they were shaking, sweating, and going half-blind searching for water after accepting the challenge. It was fun for everyone who witnessed the scenario.
Q: Uncle, what happened to your t-shirts and shorts? I think now it's high time to reveal the story.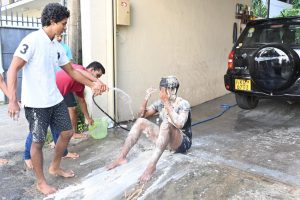 Nish's father: Yes… in the evening, others got the opportunity to give a small treat to the new president, Dasitha de Costha. He was asked to change into a pair of my shorts and a t-shirt. All went to the garden with flour and spray bottles in their hands. We watched the whole scene from the balcony upstairs. First, Dasitha was spattered with water and flour, and then it was spread to the other members as well. Everyone ran here and there and hid behind the gates and walls of the neighbors' houses. Some got into their cars and locked the doors to protect themselves from the water and flour attack. Nobody was there to stop them and I'm pretty sure every microsecond strengthened their relationship with each other. Finally, I had to give my clothes to wear until they dried their clothes.
Nish's mom: I think we should talk a bit about the dancing session also. it was fun to watch the salsa dancing skills of Sasinidu. I think they danced around for two hours until they couldn't feel their legs. Then all left our home at around 8 pm.
Me: Thank you very much for everything you did for us, aunty and uncle… we cherished every single moment and experienced happiness to the utmost. Even though we spent a whole day at your place, it was not easy to say goodbye. At the same time, I felt a bit lucky to have a bunch of people in my life who made saying "goodbye" so hard.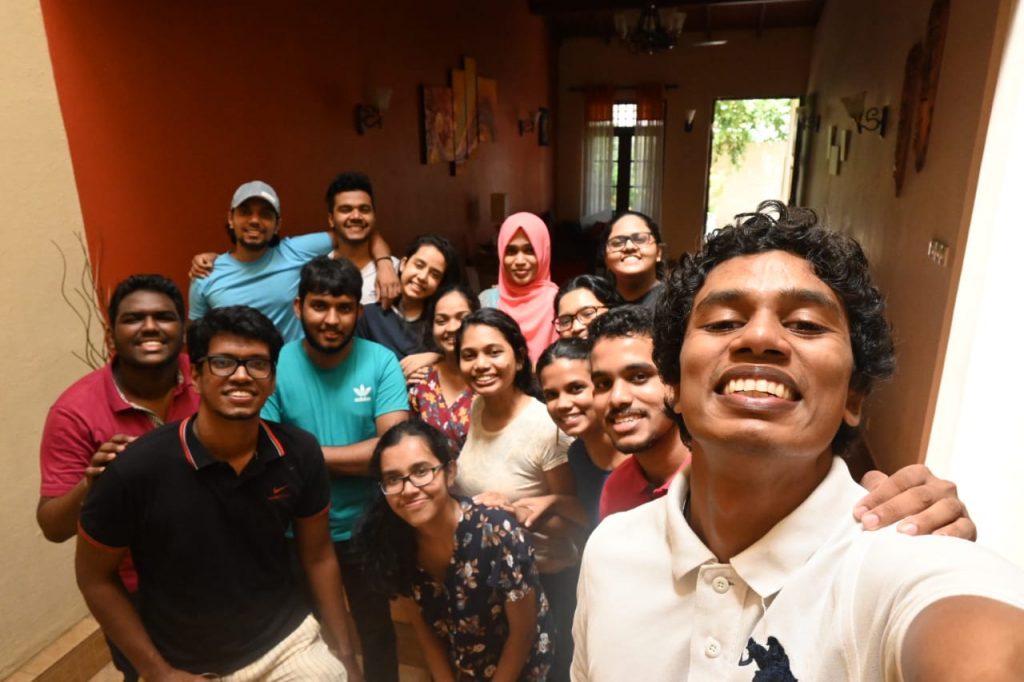 They say a HOUSE is made of bricks and a HOME is made of love. So, Uncle & Aunty, your house has become a HOME to us where memories are created and love resides.