Lately, the Gavel Club of UOC has been doing things they have never done before. After pulling off a completely virtual intra-university speech competition right in the middle of a global pandemic just a few months back (obviously, you know what a success Oration 2020 was), they were already planning another exciting new venture. And this time too, it was something that has been never done before in the history of Gavel. We gaveliers are always keen on challenging ourselves and trying out new things. That was how the path was shaped for Salutare 2020, the first-ever joint project organized by the Gavel Club hand in hand with the medical faculty of UOC.
Salutare 2020 was an inter-university speech competition organized by the Gavel Club and SIRHA of Medical Faculty of the University of Colombo to offer a stage for young undergraduates in Sri Lanka to address pressing issues such as mental health and substance abuse.
After a whole lot of initial discussions, an organizing committee consisting of a few from our Exco and a few others from the medical faculty set out to organize this inter-university speech competition, and this time too, 100% virtually.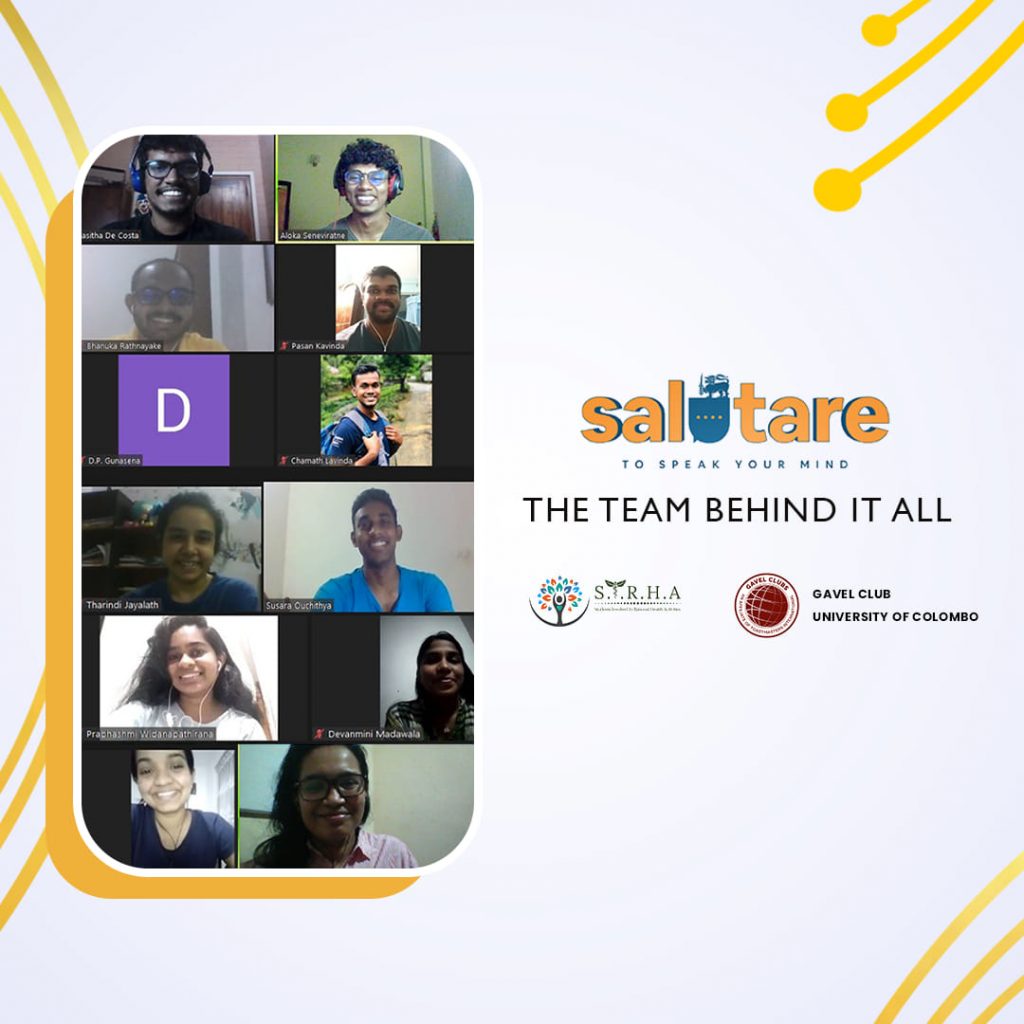 The initial round was held as a video submission round. We received many submissions from undergraduates all over the country. These were judged by an elite panel of judges and 9 talented contestants from various universities around the country were chosen to compete in the grand finale.
The grand finale of Salutare 2021 was held on the 1st of November. And I have to say that I found it an immense pleasure to be the contest chair of the event. The grand finale commenced at 1.30 pm and everyone was welcomed by our president, GV Dasitha de Costa. 9 wonderful finalists took the stage ( or rat威而鋼 her, the screen ) and shared their thoughts on mental health.
And I have to tell you, they did indeed get their messages across.
After the speeches, our keynote speaker, Dr. Mahesh Rajasuriya, a senior lecturer in the medical faculty of the University of Colombo, a consultant psychiatrist in the National Hospital and the Founding Director of Centre for Combating Tobacco ( these are only a very few among his long list of accolades) inspired everyone with his words. Not only that, our honorable chief guest, Vidya Jyothi Prof. Vajira H. W. Dissanayake also shared his valuable thoughts with us. It was a wonderful opportunity for us to be able to listen to and learn from these great personalities.
After the President of SIRHA, Mr. Chamath Lavinda thanked everyone for their support, it was time to crown the winners of Salutare 2020.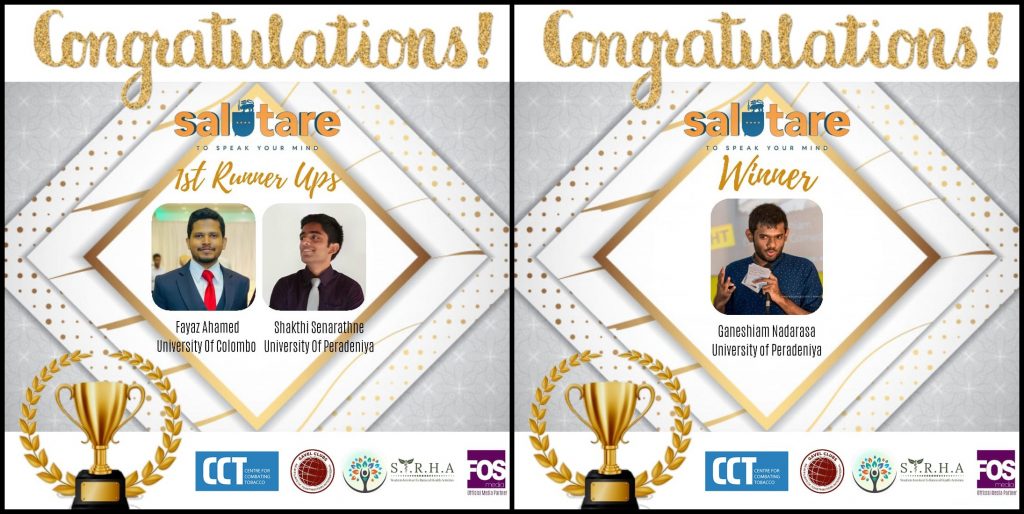 Fayaz Ahmed of the University of Colombo and Shakthi Senaratne of the University of Peradeniya became the First Runner Ups and Ganeshiam Nadarasa of the University of Peradeniya became the champion of Salutare 2020.
So, here I told you all about how we pulled off the first-ever joint project done by the Gavel Club of the University of Colombo amidst a global pandemic. But before I finish off, I want to thank all the people, especially the judges and the roleplayers who helped us immensely throughout this journey.
And as a part of the organizing committee myself, I can proudly say that Salutare 2020 was extremely successful, even though it was the first time we tried out something of that sort.
But I assure you, this will certainly not be the last. Because after all, Gavel Never Stops!